Overview
Pocket HRMS is a modern Human Resource Management Software bringing in the efficiency of the Cloud and much-needed Mobility. It is an end-to-end HR software with ease of access. The well-designed features empower you by simplifying daily activities and keeping the fun of HR alive.
Software Name
Pocket HRMS
Tagline
Empowering Businesses with smHRt Solutions
Primary category
Human Resource Management
Software Competitors
greytHR
Keka
HRone
Zimyo
Darwinbox
---
Description
Our vision behind creating Pocket HRMS and HR bot is to declutter your HR department and make it more friendly, welcoming and efficient. Simply put, our motto behind developing Pocket HRMS is "people first". We have always witnessed that every successful business puts its employees first. We have an understanding of this apparent fact. We believe that most elements for any business and the way the company treat manages employees decide its fate. We designed Pocket HRMS to help organizations work with the same ideology. Partnering with Pocket HRMS is more than a business. It is an effort towards valuing people with help of a fine mix of technology and intelligence. With advanced cloud technology, we bring you sophistication in your human resource operations with improved transparency and higher efficiency. It enhances productivity by empowering your HR team with meaningful strategies insights. With wise investment in Pocket HRMS, your human resources department would function like never before.
Pocket HRMS Specifications
Startups

SMEs

Agencies

Enterprises
Web App : https://ess.pockethrms.com/

Windows

Macintosh
https://apps.apple.com/in/app/pocket-hrms/id1273536500
Requires iOS 15.0 or later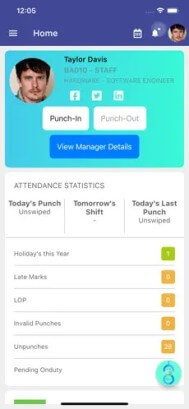 https://play.google.com/store/apps/details?id=com.pockethcm.greytrix.test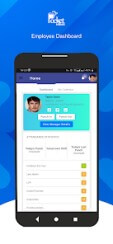 https://www.youtube.com/watch?v=DXo6YUHUexY
Pocket HRMS software is a new-age HR management solution for new-age businesses. Designed and developed keeping the millennials in mind. Flexibility, scalability, and mobility are some of the crux advantages of Pocket HRMS. Perform payroll anytime from anywhere. Bring HR people closer to your employees. Here are some quintessential features of our mobile payroll software app- Anytime access, Easy-to-use, flexible mobile application, Compliance management, Data Security.
Email

Phone

Live Support

Training

Tickets
Tally

SAP HANA Cloud

Sage Business Cloud X3

Sage 300cloud

KreditBee

Xoxoday

Cleartax

Jupiter

Repute
Media
https://drive.google.com/file/d/1nWqKTXROVyWiyuOoPImNMUldYxSOYwLV/view
Pricing
Standard
INR 2495
Unit : Up to 50 employees
Leave Management
SmHRt Payroll System
Employee Self-Service Portal
Tax & Compliance
HRIS
Super Report Wizard
Vaccination Record Management
Professional
INR 3995
Unit : Up to 50 employees
Leave Management
AI-Based Attendance Management
SmHRt Payroll System
Employee Self-Service Portal
Expense Management
Confirmation
Tax & Compliance
HRIS
Super Report Wizard
Vaccination Record Management
SmHRt Feature Suits
Mobile App
Leave Management
AI-Based Attendance Management
SmHRt Payroll System
Performance 360°
Recruitment Management
Employee Self-Service Portal
Expense Management
Confirmation
Project & Timesheets
Helpdesk
Travel desk
Survey Management
Exit Management
Tax & Compliance
Training Management
Benefits Management
HRIS
Super Report Wizard
Asset Management
Transfer
Vaccination Record Management
SmHRt Feature Suits
Mobile App
Company Profile
301, 3rd Floor, B wing, Everest Nivara Infotech Park, MIDC Main Rd, Indira Nagar, Turbhe, Navi Mumbai, Maharashtra 400705